Chasing History: Dodgers Take Game Four After An 18-Inning Game
Game Four of the World Series starts back up at 5:09 p.m. pacific time in Los Angeles, as the Dodgers let out the biggest collective exhale of the year from a 7-hour and 20 minute game 3 with the save by Muncy.
Game 3, at Dodger's Stadium, set a new record for the longest post-season game in MLB history not only in time, but in innings as well. Many fans were clearing out slowly as the game headed toward its 18th inning. Already down 0-2 in the series, the Dodgers were desperate for a crucial win. Red Sox fans in the east were up watching until 3:30 a.m., waiting on a turning point for the never-ending game.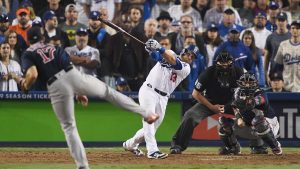 Saved By Muncy
Max Muncy dramatic walk-off homer ended the seven-hour game and marked a new point in history for the Dodgers; the first walk-off homer in the World Series for the Dodgers since former Dodger Kirk Gibson batted in Game 1 of the 1988 World Series against the Oakland Athletics.
"It's been a dream," Muncy said when interviewed by ESPN. "This whole year has been a surreal experience that it's hard to put into words. Just getting a chance to play in the World Series has kind of capped it off. Getting a chance to hit a walk-off home run, obviously there's not many words I can use to describe that. The feeling was just pure joy and incredible excitement."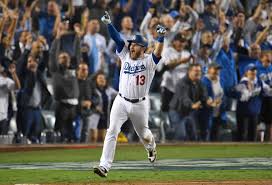 Dodgers Hope to Repeat '88 World Series Win
In 1988, the Dodgers were under as they tried to come back from an early loss. They came back to ultimately defeat the Athletics winning the World Series. Previous to that in 1981, the Dodgers' ultimate rival, the New York Yankees, came back from a 2-0 deficit to finish off NY in a four game sweep. They were the first MLB team in World Series history to do so.
It was also a huge relief for everyone to go home to get some much-needed rest as Game 4 approached later in the day. Red Sox manager Alex Cora used their Game 4 starter, Nathan Eovaldi, last night in an effort to cinch another game for Boston. As the innings pushed on, the Red Sox exhausted their starting line up, using another starting pitcher, David Price, in Friday night's game.
Dodgers Gain An Advantage
The all-in tactic that Cora used might have cost the Red Sox another win. Their bullpen is depleted and the team is scrambling to figure out who is still a viable pitcher for game 4. Of the 50 players between the two teams, only four did not play on Friday: Chris Sale and Drew Pomeranz of the Red Sox and Rich Hill and Hyun-Jin Ryu of the Dodgers. If Dodgers want to secure another win, they will need to take advantage of Boston's weakened pitchers and chip away at their bullpen.
Rich Hill is the Dodgers' starter for Game 4 after announcing late last night that it was "TBD." Clayton Kershaw is on short rest but is assumed to be starting on Sunday for Game 5.
The Dodgers have the home field advantage and after last night, the enthusiasm remains, as their bullpen remains strengthened against the Red Sox. If this energy continues, the Dodgers can emerge victorious and win the series for the first time since 1988! GO DODGERS!
– By Lillian Lokonobei