Cody Bellinger: Is The Former Rookie Of The Year Making A Comeback?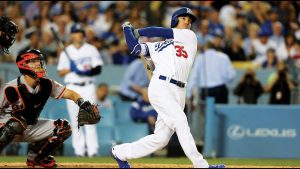 With an upsetting end to last year's World Series, Dodgers fans are hoping for redemption and a 2019 championship. This season is off to a good start with the Dodgers in first place in the NL West. Seems to be that a key player this season will be Cody Bellinger who has broken multiple Dodgers' records already.
No Stranger To Baseball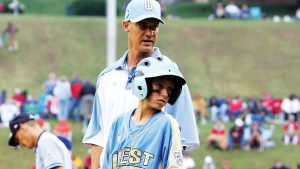 Bellinger is no stranger to baseball, his father, Clay Bellinger, also played in the major leagues winning three World Series championships, his brother Cole was drafted by the San Diego Padres in the 2017 MLB draft. Ashli, Bellinger's sister played volleyball at Vanguard University and his mom, Jennifer, carried her whole team [family] through their careers. Bellinger played in little leagues before being drafted by a major league team.
Bellinger was drafted by the Dodgers in 2013 and made his professional debut with the Arizona League Dodgers and after seeing his improvement he was promoted to the Ogden Raptors and the Rancho Cucamonga Quakes in 2014 and 2015 respectively. It wouldn't be long before his success with the Quakes, with 30 home runs in 128 games and a .264 batting average that Bellinger would be at the Dodgers spring 2016 training as a non-roster invitee. His improvement wouldn't stop there. Bellinger got promotion after promotion eventually being called up to "The Show" in April 2017.
Sophomore Slump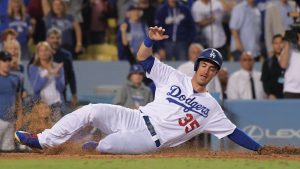 In his rookie season with the Dodgers in 2017, Bellinger played 132 games with a .267 batting average and a NL-best with 39 home runs, leaving everyone shocked and wanting more. Dubbed "Cody Love" by fans, Bellinger, 23, is on his third season as a Dodger and so far he has not disappointed, a totally different story from his second season.
Cody took a significant hit in his second season and although he played 30 more games than in his rookie season, the change was obvious. In 2017 Bellinger had a hitting average of .271 against left-handed pitchers and in 2018 he only had .226. He also struggled in the postseason hitting .115/.193/.192/.385 with 16 strikeouts, leaving him with a .172 career batting average. After this slump Bellinger needed redemption.
Grand Slam Return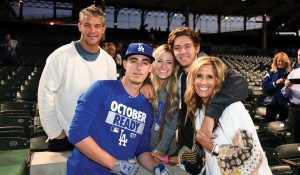 In their 7th game of the season, the dodgers were up 1-0 to the San Francisco Giants, Bellinger stepped onto the plate with bases loaded and hit an 86 mph cutter sending it over the center field fence, Bellinger's fourth career grand slam, for a 5-0 lead. The Dodgers would take home a 6-5 victory.
Bellinger has broken MLB and Dodger franchise records in the current season. The grand slam gave him an MLB-best 12 RBI and tied with Khris Davis for most home runs. Bellinger's 69th career home run broke Mike Piazza's Dodgers franchise home runs in 300 games record. All things considered, it took Bellinger 39 games to reach five homeruns last season, but this season it happened in only seven games. The former Rookie-of-the-Year winner seems to be coming back strong.
Considering the Dodgers went on a six game losing streak so early in the season, we don't know exactly what to expect but we do know that expectations are high for players like Bellinger.
– By Sandra Reyes