A Music 'Legend' in the Making: John Legend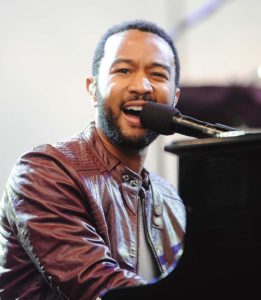 With a haunting, soulful voice John Roger Stephens, better known by his stage name John Legend, has captivated audiences and listeners with his American music. This singer, songwriter, musician, and actor has won a Grammy Award for his 2004 "Get Lifted" album among other successes.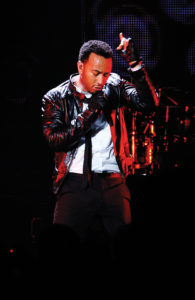 Bright Beginnings
Born on December 28, 1978 in Springfield, Ohio, Legend was a natural child prodigy, playing piano (after being taught by his grandmother), singing in church choir, and studying first as a homeschooled student and later as a high school student at North High School. He was offered admission to Harvard University, Georgetown University, and Morehouse College but eventually ended up attending the University of Pennsylvania studying English and African-American literature. During college he directed a coed a cappella group and gained popularity through his singing. With a music-oriented-seeming career ahead of him, it was a bit of a surprise when he went on to work for Boston Consulting Group, performing in nightclubs on the side in New York City when he had time and also performing in Boston, Atlanta, and Washington D.C. As a result of his performances, he became high in demand and began writing, producing, and recording his own music. He released his independent albums in 2000 and 2001.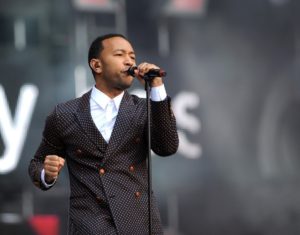 In 2001, Devo Springsteen introduced Legend to hip hop artist Kanye West who invited Legend to sing during the hooks of West's music. It was then where he adopted his stage name given to him by poet J. Ivy. His debut album was released in December 2004, debuting at number 7 on the US Billboard 200 and selling 116,000 copies within the first week's release. The album "Get Lifted," featured production by Kanye West, Dave Tozer, and will.i.am. It reached international success as well in Norway, the Netherlands, Sweden, and more. It won the 2006 Grammy Award for Best R&B Album and nominations for Best New Artist and Best Male R&B Vocal Performance, also winning individual chart positions for his songs. Many artists recognized Legend's abilities and collaborated with him. Legend has been featured on albums by Fort Minor, Sergio Mendes, Jay Z, Mary J. Blige, The Black Eyed Peas, Stephen Colbert, Rich Boy, MSTRKRFT, Chemistry, and Fergie and Michael Jackson. He has appeared on Sesame Street and performed during the pregame show of Super Bowl XL.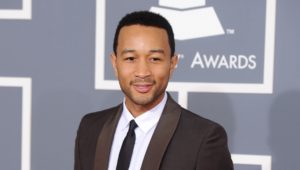 Singing Success
Later during 2006, Legend's second album "Once Again," was released, co-written and produced with West and will.i.am and other artists. It reached number three on Billboard 200 and Top R&B/Hip-Hop Albums chart. It was made platinum by RIAA, later reaching gold status in Italy, Netherlands, and United Kingdom. The songs "Heaven," "Save Room," and "Family Affair," garnered nominations for awards. He then released new albums in 2008 including "Evolver," featuring the song "Green Light," which was a collaboration with Andre 3000, leading the album to the top of the R&B/hip-hop charts. Legend also had a supporting role in the comedy "Soul Men," the same year.
Two years later, he released "Wake Up!" recorded with the Roots in 2010. The album received praise from music critics, especially with the singles "Hard Times," and "Shine." He, alongside the Roots, gained a Grammy for best R&B album a year after.
Supporting Charities and Personal Life
During the summer of 2012, he worked with Kelly Clarkson, Robin Thicke, and Jennifer Nettles in the reality television show featuring a singing competition called "Duets." He acted as a coach and performer to work with contestants on the show. The same year, he contributed a track to the 2012 film "Django Unchained," by Quentin Tarantino. His number one track "All of Me," was a ballad included in his solo album "Love in the Future," along with other songs like "Made to Love," and "You & I (Nobody in the World)." He also won a Golden Globe for Best Original Song titled "Glory," from the film "Selma," which led him to win an Academy Award. While accepting the award, his Oscar speech mentioned the modern issues highlighted by the Civil Rights Movement.
Although it may seem that John Legend's world revolves solely around music, he is also involved in social and charitable causes. He is the vice chairman on the Harlem Village Academies board, which is a New York City organization that runs charter schools, citing his own neighborhood growing up where high school dropouts made up nearly half of his town. He also lent the song "Shine" to the documentary "Waiting for Superman," which documents the nation's public school system. He has been married to model Chrissy Teigen since September 2013 and has a daughter.
-By Bonnie Wong