Recipes That Are Both Healthy and Delicious
Having more time at home doesn't mean you have to order take out each day or just eat frozen foods. This is a great opportunity for you to experiment with different ingredients and make food that is both simple and healthy. We have compiled a couple of scrumptious meals, you are going to want to broaden your recipe ideas to add to your cookbook later.
Hearty Salmon Recipe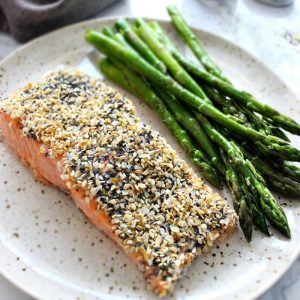 This salmon recipe comes from fitness guru Kit Rich, who is notorious for working with A-list celebrities such as Kesha and Jennifer Lawrence. What you will need for this recipe is a 6oz skinless salmon per person, add a drizzle of olive oil, pinch of salt, and a pinch of pepper.
After having your salmon prepared your going to start on the avocado topping that will accompany the salmon. For this you will need ½ of chopped avocado, 1 tablespoon of chopped fresh cilantro, 1 tablespoon of olive oil, a pinch of salt, pinch of pepper, 1 tablespoon of fresh lime juice with extra to add after everything is complete.
Then for the side you will need 6 spears of asparagus per person and add a drizzle of olive oil.
After you have all your items prepared you are going to preheat your oven to 400 degrees fahrenheit and then you will bake your salmon on a baking sheet for 12 to 15 minutes. While your salmon is baking you are going to use a grill pan on high and you are going to place your asparagus and grill for 3 to 5 minutes. After your salmon is ready you will add the avocado topping and the asparagus, and you will squeeze lime juice over your plate to add the finishing touch.
Grilled Chicken With Roasted Kale Recipe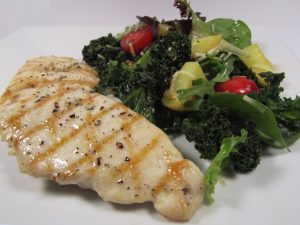 For this next recipe you are going to need ½ pound of small red-skinned potatoes cut into ½ inch pieces, 2 tablespoons of extra-virgin olive oil, 1 large bunch of kale, 3 cloves of garlic thinly sliced, kosher salt and freshly ground pepper, 2 large boneless chicken breasts, 4 cups of mixed salad greens, ½ cup of cherry tomatoes cut in half, ⅓ cup of grated parmesan, 1 tablespoon of fresh lemon juice.
The directions to make this dish is first preheat the oven to 425 degrees fahrenheit, then you will place the potatoes with ½ tablespoon of olive oil on a baking sheet and roast for 5 minutes. After, you will place the kale in a large bowl with garlic, ½ tablespoon of olive oil, ¼ teaspoon of salt, and pepper. You will want to place the mixed kale with the potatoes that are roasting in the oven, until the kale is crisp and the potatoes are tender while you stir once every 15 to 20 minutes.
While your kale and potatoes are cooking, preheat a grill to medium and brush with olive oil. Then you will slice the chicken in breasts in half horizontally. You will then coat each slice of chicken with ½ tablespoon of olive oil and season with salt and pepper. After the chicken is prepared you will grill each side for 2 to 4 minutes and then you will transfer over to a plate, while you place the kale and potatoes, salad, tomatoes, parmesan, lemon juice, and salt and pepper into a large bowl. Then you can evenly divide the chicken and kale evenly.
There are a variety of different ideas for healthy food, you can mix up your week with fish, chicken, or even beef. Just remember to balance the portioning on your plate, and drink the recommended amount of water per day to stay up with your diet plan, and most importantly fight any urges of getting fast food.
– By Ulises Rodriguez