Los Angeles Lakers Summer League 2017: The Summer of Lonzo
A rocky start would be an understatement.
A nervous-looking Lonzo Ball made his professional career debut on July 7, 2017 against the cross-town rival Los Angeles Clippers and Laker fans were wiping the sweat from their brow after watching Ball's abysmal performance. After starting Summer League off with a promisingly perfect alley-oop to Brandon Ingram, Lonzo went on to go 2-of-15 from the floor and 1-of-12 from three.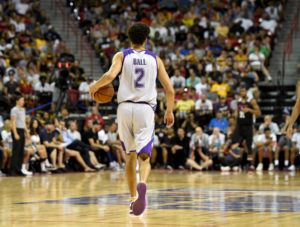 One thing we learned during this Summer League though is that Lonzo Ball is not the type of guy to give up. Ball bounced back from the early performance and made history by dropping two triple-doubles in six days—a feat that hadn't even been accomplished once by a single player in the past decade.
The 19-year-old guard's court vision and passing ability are the reasons he was held in such high regard before the 2017 NBA Draft and he is proving that the experts were correct, or perhaps may have even underestimated the impact he would have in this tournament. It's as if he's seeing things in high-definition and everyone else is stuck watching the game on a CRT from the 1960's. Before the Summer League tournament in Las Vegas ever began, Lonzo said that he only had one goal going in and that was to, "Just come home and win the whole thing," and his play thus far has set up the Lakers' young stars to do just that.
He totes a veteran ability to see the court and make pristine passes before the defense even knows what hit them. His supreme passing has been like a welcomed fever for the Lakers and has been caught by the rest of the Summer League team. That extra pass that leaves a man wide open for a corner three or easy lay-up has allowed for the Lakers to breeze to a five-game winning streak after their two early losses.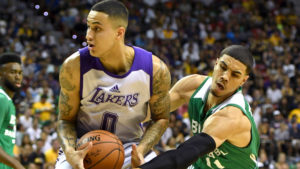 He couldn't have done it alone though and the number 27 overall pick, forward Kyle Kuzma, has proven that he is and will be a force to be reckoned with at the professional level. Kuzma has led the Lakers in scoring four times throughout this tournament and is averaging 20.5 points, 5.8 rebounds, and three assists per game.
The Lakers will need Kuzma to show out in the Summer League Final today if he wants to make Ball's pre-Summer League hopes of taking home the championship into a reality. This became especially true after it was announced that Lonzo Ball taking a seat to treat a strained calf that he suffered in the semi-final match against Dennis Smith, Jr. and the Dallas Mavericks.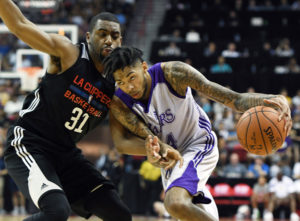 With Kuzma, Ingram and reigning G-league MVP, Vander Blue, at the helm, the Los Angeles Lakers should be going home with some hardware tonight.
-By Jerry Shumway