A Breath of Fresh Air: Cody Bellinger's Ballistic Start for Dodgers
Canseco. McGwire. Trout. Bellinger?
Cody Bellinger has put his name on a list of big league power hitters that had a stupendous start to their careers. Bellinger has taken Chavez Ravine by storm and captured the hearts of Los Angeles Dodgers fans young and old with his million-dollar smile and billion-dollar bat. He's the type of player that makes baseball fun to watch because you know that with every bat that he has, he has the chance to go some yards. His fierce uppercut swing sends the ball into orbit and has opposing pitchers trembling at the knees.
So we have to ask, as the only Dodger in history to hit his age in homeruns before the all-star break (21), what are they feeding this kid?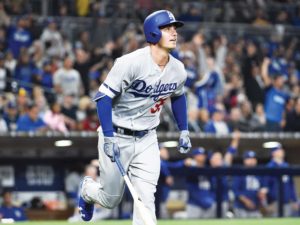 It Must Be Genetic
Cody James Bellinger is a family man, and for good reason. His father, Clay, not only played in the majors but also is a three-time World Series champ. His brother, Cole, was the winning pitcher for the Hamilton High School, where Cody is also an alumni, in each of the last two state championship games and was just drafted by the San Diego Padres in the 2017 MLB Draft. Cody's sister, Ashli, played volleyball at Vanguard University, and his mother, Jennifer, is the all-star mom that has supported her athlete-filled family for all these years. Cody was born in 1995, making him the second youngest player on the team behind 20-year-old pitcher Julio Urias, but his time in the spotlight began when he competed 10 years ago in the 2007 Little League World Series for Chandler, Arizona. Cody's decision to sign with the Dodgers was highly influenced by the fact that he knew he would be close to his family, who has supported him from his little league days, to high school and eventually travelling for hours to watch his first big-league game.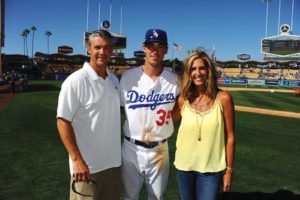 The "Belly Bomb" Is Born
Once Cody reached high school and began receiving national honors everyone realized that it was only a matter of time before he made it to the big leagues, but he still had a long road ahead of him. After being named as a 2013 Rawlings-Perfect Game 2nd Team All-American he was drafted by the Dodgers in the fourth round of the 2013 MLB Draft and signed soon after though already verbally committing to play ball at University of Oregon. Cody has always been known for his big bat and his ability to hit what his fan base has affectionately named "Belly Bombs," but also showed some amicable chops on the defensive side of the ball with his pitching as well as his ability to play infield as well as outfield.
He made his professional debut with the Arizona League Dodgers and hit .210 on 195 appearances while striking out 46 times in about as many games. Even with his habit of striking out, scouts saw promise in his ability to hit the long ball and he was promoted to the Ogden Raptors of the Pioneer League in 2014 where he showed vast improvement at the plate. Bellinger played 46 games for the Raptors with a .328 batting average and was quickly promoted to the Rancho Cucamonga Quakes in 2015 before being selected to the mid-season California League all-star team and eventually the post-season all-star squad.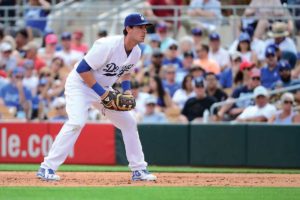 The "Belly Bomb" was in full effect during his time with the Quakes. Cody hit 30 home runs in 2015 in 128 games with a not-too-shabby .264 batting average. This success is what led to his non-roster invitation to Dodgers spring training in 2016 as well as his assignment to the double-A Tulsa Drillers in the Texas League. His 114 games in double-A were enough to earn a late-season promotion to the triple-A Oklahoma City Dodgers where he hit three home runs in only 11 at bats. The accolades kept pouring in for Bellinger as he was then assigned to the Glendale Desert Dogs after the 2016 season and participated in the Fall Stars Game for the top prospects in the Arizona Fall League. A few months later he was called up to The Show on April 25, 2017 due to a Joc Pederson injury.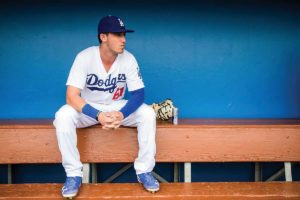 A Dodger Legend in the Making
Now this is where things get interesting.
In his debut Bellinger started in left field against the rival San Francisco Giants and turned in one hit on three at-bats, but the Giants had done their homework. Bellinger became just the Dodger in history to be intentionally walked in their major league debut, joining Chico Fernandez and Dick Nen. Just four days later he hit his first big league dinger but decided it wasn't going to be a one-and-done venture by hitting another one into the cheap seats in the same game making him also the third Dodgers' player with a two-home-run game in his first five starts.
You can say he quickly got into the swing of things when he launched his first career grand slam on May 6 against the San Diego Padres and became the first Dodgers' player ever to hit five homers in his first 11 games. He was named the National League Player of the Week for his efforts the first week of May. It was a productive month for Bellinger, to say the least, with nine home runs and moving into a three-way tie with Joc Pederson and James Loney for the most home runs by a Dodgers' rookie in a calendar month. Needless to say he was named NL Rookie of the Month for the month of May, but it didn't end there.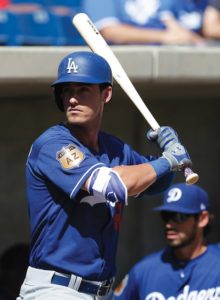 Two-home-run games seem to be his comfort zone as Bellinger hit two against the Reds on June 11 and then did so again the next game against the Indians, joining Adrian Beltré on a short list of Dodgers that hit two home runs in back-to-back games. By raking in four multi-home-run games in his first 45 appearances he became the fastest player in MLB history to accomplish that feat, beating Bob Horners 39-year old record by a whopping 18 games. Bellinger went on to hit two more home runs against the Mets on June 19 and tied the record for the fastest player to hit his first 20 home runs and a day later became the first rookie in MLB history with 10 home runs in a 10-game span—something that not even The Babe, Barry Bonds or Hank Aaron ever did. In less than 50 games, Bellinger had his sixth multi-home-run game and surpassed Mike Piazza's Dodgers' rookie record and won his second Player of the Week award.
Cody Bellinger was called up due to a slew of Dodgers injuries and manager Dave Roberts has even been reported saying that he may have to send Bellinger back down to the minors when those players return from the disabled list, but he'd be crazy to do so. Bellinger has the most home runs in the National League and the second most in Major League Baseball, just three shy of Yankee freak-of-nature Aaron Judge. Oh, and did we mention everyone else in the league had about a 25 game head start on the guy?
Sure, he has no idea who Jerry Seinfeld is or what he does, and our immediate reaction was to begin trade talks for that reason alone, but with the power potential and defensive prowess he's displayed thus far he has proven to the fans and all Seinfeld lovers alike that it's in our best interest to let this one slide for now.
By Jerry Shumway