Adrian Gonzalez: His Unwritten Legacy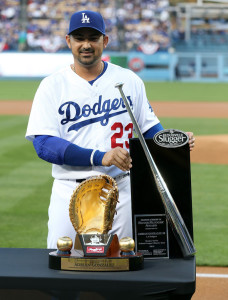 Adrian Gonzalez also known as "Gonzo" was born May 8, 1982 to Mexican-American parents. He is known very well in the world of baseball as he has received Most Valuable Player (M.V.P) Award four times and has been awarded the Gold Glove twice. Now, at age 33, he has settled in for the Los Angeles Dodgers as of 2012 with a well-formed career behind him but it wasn't easy to get to where he is as it took Gonzalez almost six years to become a Major League Player.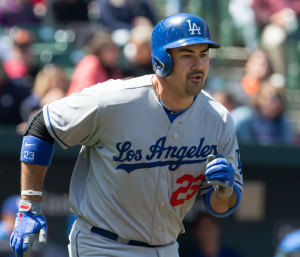 Growing Up With Baseball
Youngest of three brothers, Gonzalez was born in San Diego, CA but early on in his childhood his parents moved to Tijuana, Mexico where he got his first taste of baseball. Adrian's father, David Gonzalez owned a profitable AC firm and was known for being a member of the Mexican National Baseball team. The three boys would often attend his father's game and became indulged in the sport them selves. Gonzalez along with his brothers played little league baseball and averaged 120 games a season. His father being a baseball player himself was a huge influence, he would make sure the boys were learning and playing the game right. Wanting his three boys to have a shot at a better life and education, he and his family moved to Bonita, California in 1990. Gonzalez continuing in his baseball career, his high school days were glorious, as he became the star of the East Lake High School baseball team with his amazing natural talent. Gonzalez took a scholarship to the University of Miami and was later scouted by the Florida Marlins.

Stunning Professional Career
Gonzalez became the first infield position player to be drafted first overall since Alex Rodriguez signing a $3 million bonus with the Florida Marlins in 2000. In his second pro-season Gonzalez hit .312 with 17 home runs and 103 RBIs in 127 games. He led his Midwest league in hits and bases and successfully led the team to the league title. Ultimately leading him to score the Most Valuable Player (M.V.P) of the minor league and Top Prospect in the League. Gonzalez spent 2002 playing for the Class-AA Portland Seadogs with .266 with 34 doubles, 17 homers, and 96 RBIs. That same year he was named 31st best prospects of the minor leagues by Baseball America. He then moved to Class-AAA playing for the Redhawks and finally got his first taste of major league baseball in 2004. Gonzalez replaced Mark Teixeira for a couple of games until he returned and Gonzalez was sent back to the Redhawks. Finishing his season with an average of .315, 12 home runs and 84 RBIs in 115 games.
In 2005 he spend the year hoping to prove he belonged to the Major Leagues and began the season playing in Texas for the Texas Rangers. After the season, in 2006, Gonzalez was traded to the San Diego Padres. With unconditional talent, he began to improve batting at .304 and hitting 25 home runs. He became the first player in Petco Park history to have more than one multiple home run game. Gonzalez was named Padres' MVP for 2006. On March 31, 2007 he signed a $9.5 million, four-year deal with the Padres and that same year led them with 30 homeruns and had a team high of 100 RBIs. In the next four years Gonzalez was the Padres' pride and glory, he was named MVP three consecutive years.
Having phenomenal success with the San Diego Padres, the Padres could no longer afford to keep Gonzalez in the team and he was traded to the Boston Red Sox in 2010. The following year his contract was extended seven years for a total of $154 million through 2018. Gonzalez was chosen to represent the Red Sox at the 2011 All-Star game and was responsible for hitting the only run for the American League. Playing only one year with the Red Sox he was again traded to the Los Angeles Dodgers in 2012.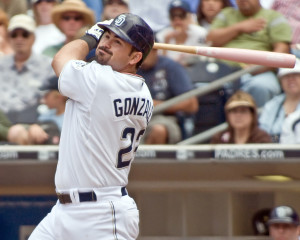 Gonzalez And The Dodgers
Starting out 2012 with the Los Angeles Dodgers, Gonzalez hit three home runs in his first game against the Miami Marlins. In 36 games total he hit .297 with 3 homers and 22 RBI. Not his career highest or average but Gonzalez was doing all right. In the 2013 season, Gonzalez appeared in 157 games for the Dodgers and hit .293 with 22 home runs and 100 RBI. He was a candidate for the final-vote at the 2013 All-Star Game but did not get selected to the game. In the 2013 NLCS Game 5 against the St. Louis Cardinals, Gonzalez went three for four with two home runs. The Los Angeles Dodgers would eventually lose the series in six games.
Gonzalez finished the 2014 season with 116 RBI, the most in all of Major League Baseball. He was the Dodgers' nominee for the Hank Aaron Award, after hitting 27 home runs in 159 games. However, his batting average of .276 was the lowest of his career. He finished up the season by winning the Silver Slugger Award as the best hitting first baseman in the NL and also won several awards for his defense at first base, including the Gold Glove Award, Fielding Bible Award and the Wilson Defensive Player Of The Year Award.
The 2015 season has just only begun and Gonzalez already became the first player ever to total five homeruns across the first three games of the season. Gonzalez now has 267 homers for his career, 14th among active players and he could possibly reach 300-home run club this season. With an incredible career behind him, Adrian Gonzalez has made his mark in Major League Baseball with his outstanding talent and continues to impress us all. At only age 33 we can see that he is not done showing the League how good of a player he is. Gonzalez' 2015 Dodger season couldn't have started any better.
– By Bianca Calanche