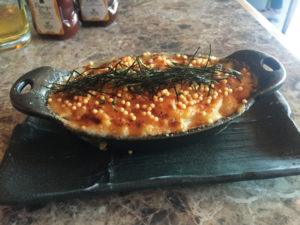 If you're in Los Angeles and have a hankering for an authentic but unique dining experience then look no further than Tokyo Fried Chicken Co. located in the Deerfield Plaza in Monterey Park. Chef Kouji's take on fried chicken, with influences from his Japanese heritage; will leave you wondering what he is doing in that kitchen to make his food so unforgettable. Just as Tokyo is the melting pot of Japan, chef Kouji utilizes various styles to perfect his dishes. The chicken is fried bone-in for extra flavor and is presented to you with a crispy skin that will have you daydreaming about it on your way home. It's best that you order a dinner set, which comes with your fried chicken, a chicken rice that perfectly compliments the main dish and a house pickled ginger cabbage to cleanse your pallet between every bite—trust me, you won't want anything obstructing that flavor profile. We recommend the following side dishes, the macaroni and cheese that comes complete with rice crackers on top to create a fusion of a crispy outside and warm and creamy inside and the soy glazed yams that are sweet and savory. Depending on whether you like a kick with your chicken or not, try one of their three signature sauces. The spicy ponzu sauce will add a bold heat to your chicken while the sweet and spicy ponzu starts off sweet and leaves you with a lingering bite on the tip of your tongue. After four years of operation, Tokyo Fried Chicken Co. hopes to expand soon, but for now stop into Monterey Park every day after 5:30 for dinner, but show up early… That is, unless you don't mind waiting in the line around the corner.
Tokyo Fried Chicken Co.
122 S. Atlantic Blvd.Monterey Park, CA 91754
626-282-9829
Open for dinner after 5:30pm.