City of Champions Stadium: Home to L.A. Rams In 2019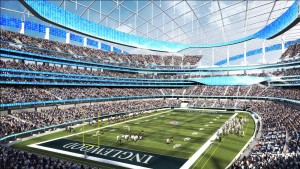 With a new football team, Los Angeles is planning to build a new stadium to match. The nation's second-largest city will be branding the "world's most expensive stadium complex." With 300 acres in Inglewood, the NFL Rams will enjoy the stadium estimated to be $2.6 billion of 3.1 million-square feet and house over 100,000 people. Twice the size of the Disneyland Resort, the stadium will have a 6,000-seat performance venue, 1.5 million square feet dedicated to retail and office space, 2,500 homes, a 300-room hotel, and 25 acres of parks.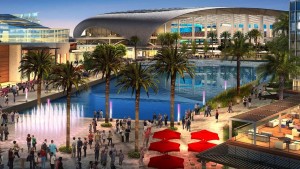 The stadium is designed by HKS, an international architect company, featuring a sail-shaped roof that is double the size of the stadium. The roof will cover the football field, the arts venue, and Champions Plaza in between. A transparent canopy that can also be programmed as a billboard will also cover the stadium. The stadium is located directly under LAX's flight path and the billboard will serve to promote viewership.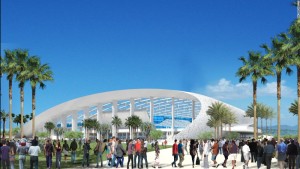 In case the Chargers decide to move with the Rams to Los Angeles, the stadium will be able to house both comfortably. Currently, the most expensive stadium is the MetLife Stadium located in East Rutherford, New Jersey. This stadium is home to the New York Giants and New York Jets with an estimated cost of $1.6 billion. The new L.A. stadium costs nearly $1 billion more.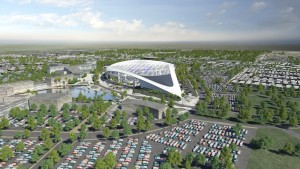 In addition, L.A. is notoriously known for the traffic, so what will this stadium do about parking? Developers plan 9,000 on-site parking spaces, including 1,000 spaces underneath the stadium for VIP. 3,000 spaces belong to the Forum and there are 41,000 more parking spaces within a mile and a half. The stadium will be completed in 2019; so eager fans can finally have a new NFL home in Los Angeles.
-By Bonnie Wong