Angelo's Italian Restaurant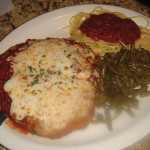 Angelo's Italian Restaurant – angelosalhambra.com
Since 1962, Angelo's Italian Restaurant has been serving fresh ingredients, tasty sauces, and great quality dishes at an affordable price. This family-style diner specializes in Sicilian style pizza and baked pastas; their Beef Lasagna and Angelo's Deluxe pizza was excellent. They also have a mean Chicken Parmigiana and Meatball Sandwich. Their hearty portions can be paired with their house Burgundy or Peroni Beer. Try to leave some space for their Ice Cream Pie or Tiramisu. It was just remodeled a couple of years ago, yet with their veteran chef the food remains the same great flavor. They also offer large party trays for when you want more of Angelo's.
Angelo's Italian Restaurant
1540 W. Valley Blvd.
Alhambra, CA 91803
626.282.0153