29 Years is Long Enough: Youthful Dodgers Keep Eyes on the Prize
Mark my words.
The Los Angeles Dodgers will be representing the National League in the 2017 World Series.
Many Angelinos know the Dodgers as the team that starts off strong and finds a way to beat themselves before getting to play in the coveted series. This is the year the Dodgers change all of that. With longtime Dodgers fan favorite Dave Roberts returning at the helm we can expect a familiar energy this season. Though the Dodgers are currently sitting in the three-spot in the National League West, two games behind the division leading Colorado Rockies, they are riding a four game win streak behind the bats and pitching of Dodgers, young and old. Clayton Kershaw continues to prove why he is the most dominant pitcher in baseball and he finally has a supporting staff of pitchers that fans can get behind. The Dodgers are equipped with the tools this season to not only continue their dynasty over the NL West division by pursuing their fifth straight championship, but also finally getting back to the World Series for the first time since defeating Oakland in the series 29 long years ago.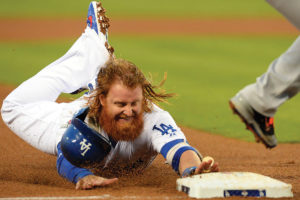 A Lineup With a Spring in It's Step
The Dodgers will be sporting an almost identical lineup as last year featuring 2016 Rookie of the Year winner and big bat shortstop, Corey Seager. Not only that, but the Dodgers are also featuring one of the youngest lineups in baseball. Some of these young stars that are hoping to capitalize on a strong outing last year are Julio Urias (20), Cody, Bellinger (21), Joc Pederson (24), Andrew Toles (24), and Kike Hernandez (25). The youngest player on the Dodgers, pitcher Julio Urias, allowed just one run in 5 2/3 innings in his debut against the San Francisco Giants. Urias finished the 2016 season with a 5-2 record. The spotlight remains on the fresh-faced Dodgers with youngster, Cody Bellinger, making his major league baseball debut against the Giants on April 25, 2017. A mere four days later, Bellinger got a hold of not one but two pitches and hit his second career homerun as a part of a back-to-back-to-back homerun effort in the ninth to help the Dodgers defeat the Giants, 6-5. Seager believes that Bellinger has the ability to add a spark to an already explosive lineup and leading the pack of Dodgers millennials is none other than the 6-foot-4-inch star shortstop, 22-year-old Corey Seager.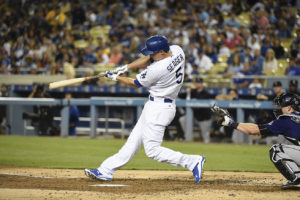 Seager's Strong Start Ignites Dodgers
The Dodgers drafted Corey Seager almost five years ago and called him up to "the show" in September 2015. He quickly found himself making his way into the starting lineup after a series of routine Dodgers mid-season injuries. Seager quickly found his groove in the big leagues by raking 26 homeruns in his rookie campaign. The rapid start turned heads around the league and he's quickly making a name for himself with the fans after competing in the 2016 MLB Homerun Derby as a rookie and finishing third in the NL MVP voting a year ago. Many baseball critics find it hard to believe that a 6-foot-4 shortstop can last in this league and many have told him he should consider switching positions. Seager responded to these critics in an interview with ESPN when he said, "If someone legit had seen me and then said I couldn't play short, I could accept that. But to so many others, I was moving because of my size." Seager has received comparisons to other rookie standouts such as Mike Trout, Bryce Harper, and Kris Bryant, but the most notable comparison is to Hall of Fame shortstop Cal Ripken. Seager and Ripken hauled in almost identical numbers in every offensive category in their rookie campaigns and that in and of itself should have Dodgers fans on the edge of their seats. Seager's size, power, and agility help him dominate from the coveted shortstop position. So far this year after about 100 at-bats, Seager leads the team with five home runs, 17 RBI's, and an admirable .306 batting average. Seager has received help from other Dodgers' bats but he continues to be the face of the young Dodgers' standouts by helping them claw up to the eighth spot in ESPN's week four power rankings.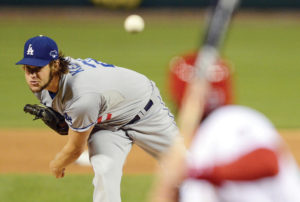 Don't let anyone tell you that this is just going to be another typical year for the Dodgers because with Clayton Kershaw, Seager, Roberts and the rest of the boys in blue…
This year is for real.
– By Jerry Shumway