Superfight of the Century: "Canelo" Versus "Triple G"
Don't do it.
Just don't. Don't let the media coverage surrounding the McGregor-Mayweather fight scheduled for August 26 of this year distract you from the most eagerly anticipated superfight of all time taking place three weeks later in the same arena, the T-Mobile Arena in Las Vegas, Nevada.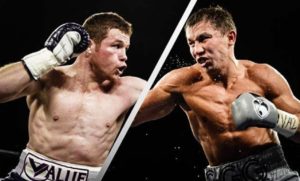 Saul Alvarez (49-1-1, 34 KOs), who has been affectionately nicknamed "Canelo" by his massive Mexican fanbase due to his cinnamon colored hair, will go 12 rounds, or less, with the undefeated Kazakh boxer, Gennady "Triple G" Golovkin (37-0, 33 KOs), on September 16, 2017 with the Middleweight Championship of the World belt on the line.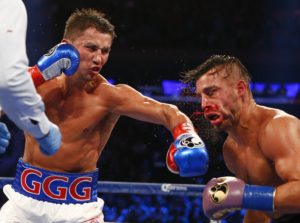 After outpointing Danny Jacobs in his first fight to ever go the distance, the IBO/IBF/WBA/WBC Middleweight World Champion Triple G has been deemed a moderate favorite by oddsmakers in this fight of the century over Canelo, and for good reason. Triple G puts the fear of God into his opponents with his thunderous punches that have the ability to open up even the tightest defenders. He features an immense amount of variety in his attack and his brilliant footwork allows him to judge distance better than just about anyone and control the ring, whether you like it or not.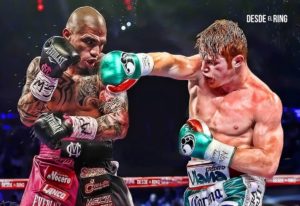 The lineal and RING Magazine Middlweight World Champion Canelo attributes his heart, will and durability to his Mexican heritage and it is this heritage that allows him to fight without letting a thing rattle his cage and make him lose his composure. As the match goes on into later rounds you will never see Canelo's body language change and he's able to fight defensively for long stretches. We'll see if that's enough to fend off the haymakers that will surely be coming his way from Triple G. Canelo's one-punch knockout power is something in his arsenal that he's extremely proud of and he loves to remind the media that more than 75 percent of his fights have ended via knockout.
It's fair to say that though these two competitors respect each other neither of them have any intention on allowing the judges to make the decision for them.
With Canelo's only two non-wins coming at an early phase of his impressive boxing career, I have to go with the "underdog" in this one. Triple G may have the notoriety as one of the hardest middleweight punchers of all time but Canelo's fervor and passion will carry him through.
You know what the late, great Mark Twain said, "It's not the size of the dog in the fight, it's the size of the fight in the dog."
By Jerry Shumway